Send a batch of documents
30 Nov 2022

1 Minute to read
Send a batch of documents
Updated on 30 Nov 2022

1 Minute to read
---
Share feedback
Thanks for sharing your feedback!
This article describes how to send a batch of documents to a customer during a Lightico session. The documents need to be completed by the customer in a particular order. You can send a combination of template based and ad hoc documents.
To send a batch of documents:
In the right pane of the session page, click Tools to access the Lightico Apps.

Click Send Batch.


The Create Batch pane opens.


Add files to the batch in the order that you want the customer to complete them. You can add template based documents and/or ad hoc documents using the relevant add file buttons.

To add a template based document click the template based button.

To add an ad hoc document, click the ad hoc button. You can upload multiple ad-hoc documents at once and then edit them one at a time.

If one of the documents has multiple participants, you can prevent the customer from proceeding until all participants have completed their tasks on that document. To do this, click the participants button next to the relevant document, and select the checkbox.


After you have added all the documents to the batch, click Send Batch.
The batch of documents is sent to the customer and the customer needs to complete them in the order that they were sent.
To manage the customer interaction after the document has been sent, use the interaction bubble, displayed in the left pane.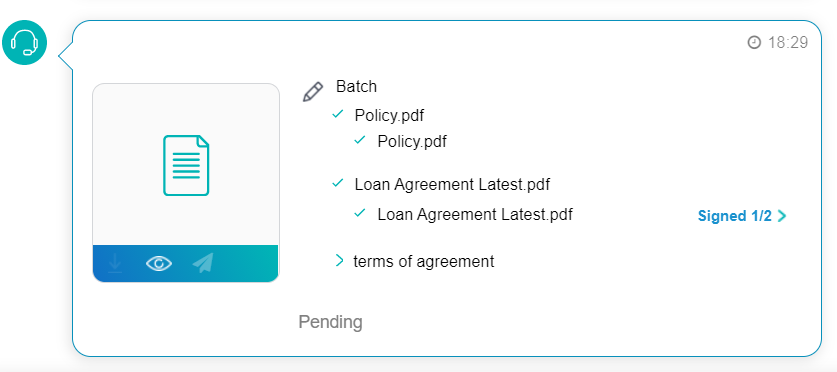 The interaction bubble provides information about this interaction with the customer and allows you to perform certain actions on the relevant documents. For more information, see Using interaction bubbles.
---
Was this article helpful?
---
---