Getting started as an administrator
13 Nov 2022

2 Minutes to read
Getting started as an administrator
Updated on 13 Nov 2022

2 Minutes to read
---
This article explains the most basic settings you'll want to configure before agents start running a Lightico session.
Accessing Lightico Settings
When you log into Lightico, you'll see the agent screen. Click Settings from the menu in the upper right corner.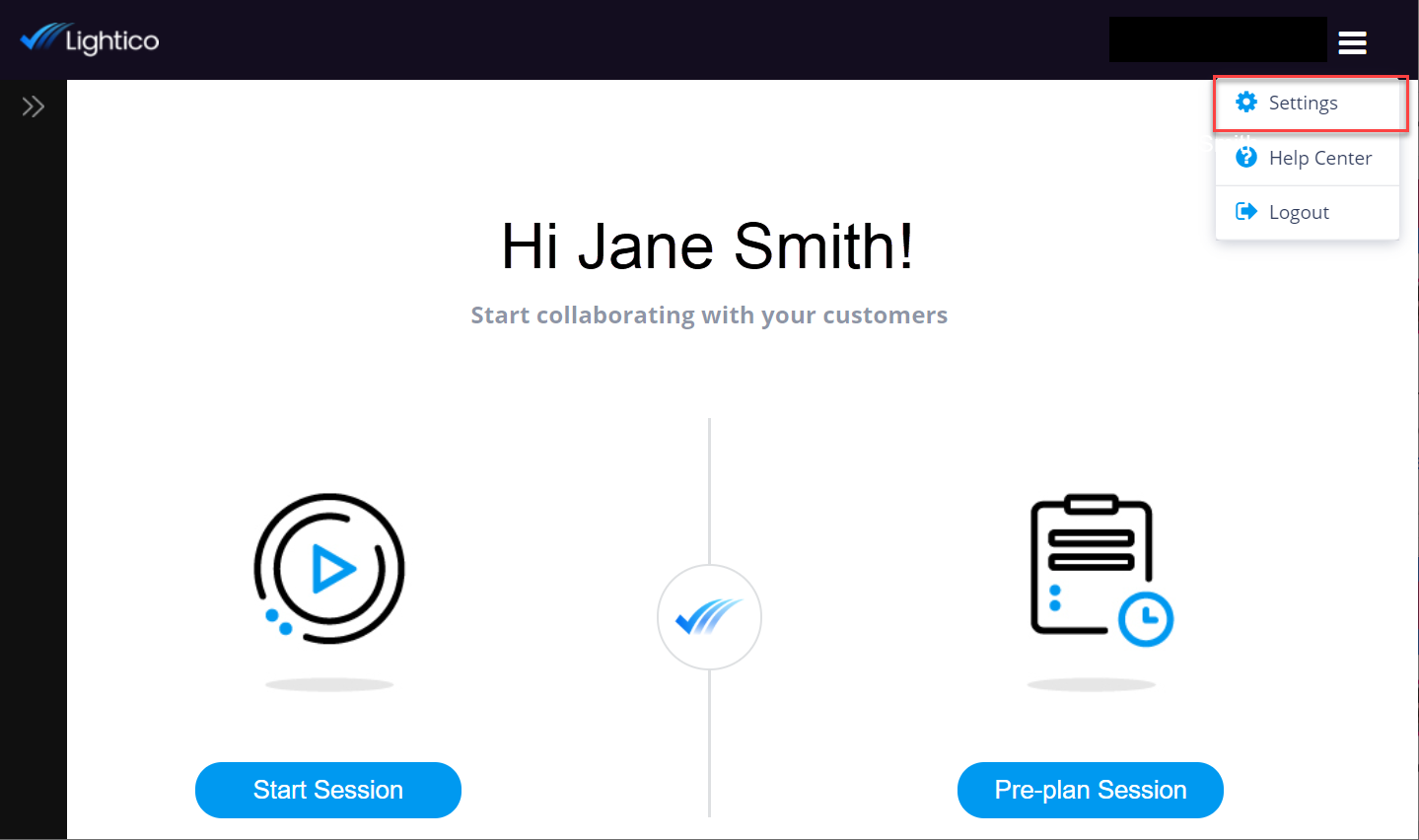 The Administration home screen opens.
From this page, you can view session analytics filtered according to team and date, use Quick Access links to go to open the most commonly used pages, and open recently edited workflows.
Click any of the tabs from the navigation pane on the left to open a settings page.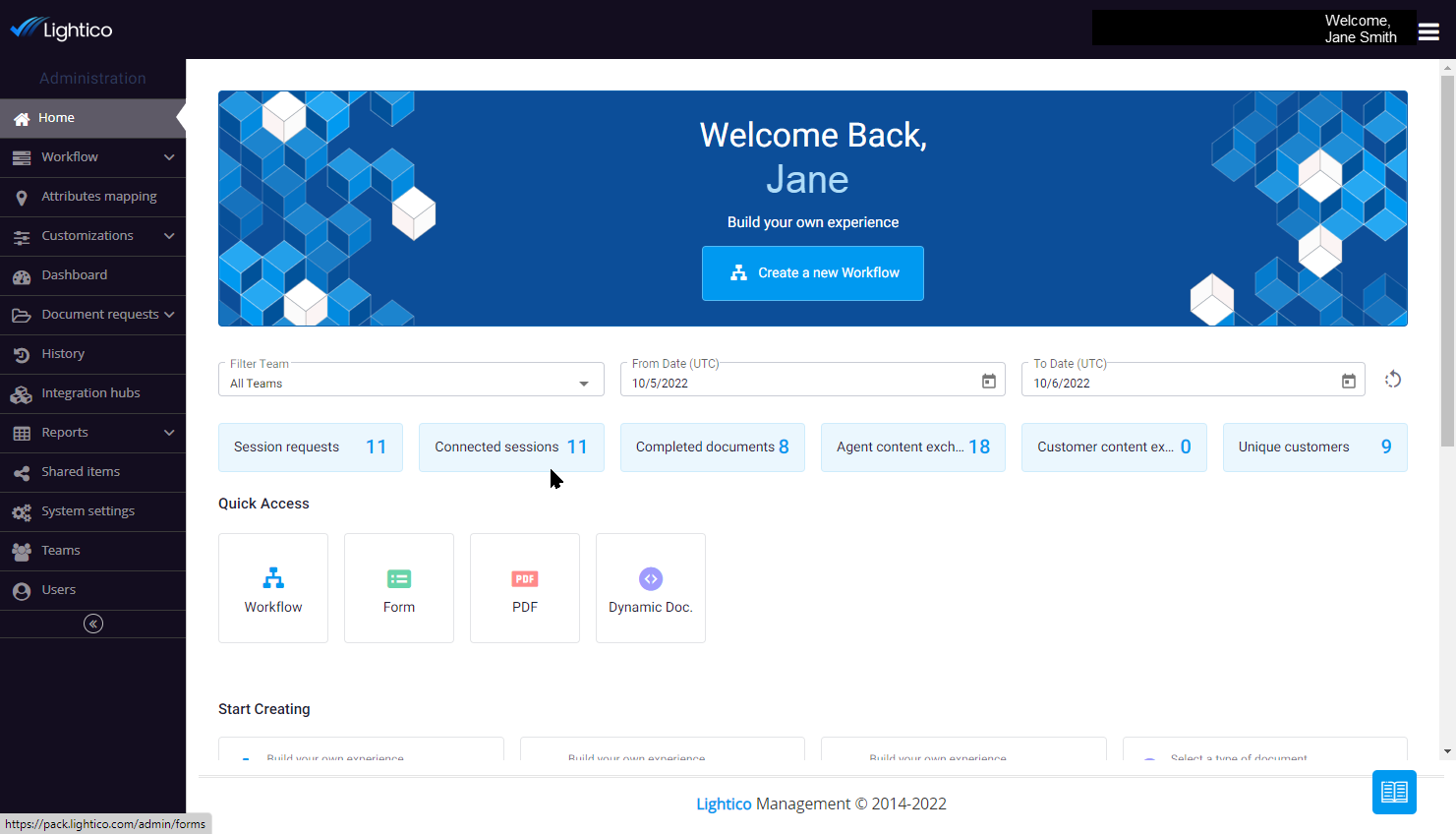 The following are some of the basic things you may want to configure before you or your agent run your first Lightico session:
Customize the Interface Branding
By default, the customer interface is blue and white with the Lightico logo. You can change this to your own company colors and logo.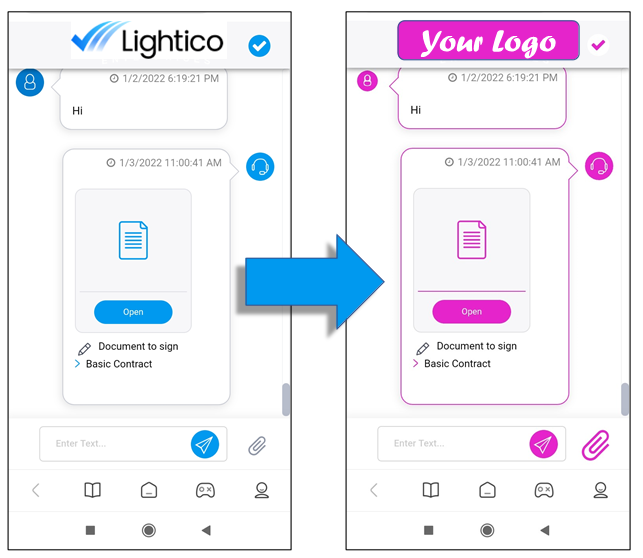 To customize the interface branding:
On the Administration screen navigation, click System settings.
On the Settings navigation click Format and design.
Under Logo for customer session, click Replace file and select your logo file.
Under Colors for customer session, turn on the toggle, click the edit icon, and select a background and foreground color.
For more information about customizing your Lightico interface, see Customize Customer Interface.
Create a User
Add someone else as a user so that they can also configure settings and/or run Lightico sessions with your customers.
To create a user:
From the Administration screen, go to Users and click Create New User.
In the Add User window, fill in the new user's email, first and last name, and password and click Save.
The new user is saved as an Agent.
To change the permission level of the new user, click the edit icon for the user and, in the Update User window, select a new role from the Role dropdown.

Note:
In the Free Trial version, all users are Profile admin.
For more information about creating users, see User management.
Create an eSign Document
There are many interactive elements and settings that you can add to your document that will streamline your customer's collaboration experience. In this getting started section, you'll learn about how to add a signature field to the document. When your agent shares the document with your customer, the customer can view the document and then has the option to sign it from their device.
For more information about configuring documents, see Create template-based documents.
To create an eSign document:
From the Administration screen, go to Shared Items.
Click the upload icon and upload your document.
The document opens in the PDF editor.
Click the Signature icon.
A Signature field appears in the top left corner of the document.
Drag the field to the signature line and resize it.
Click Publish.
The eSign document is saved and is available for sharing during a Lightico session.
---
Was this article helpful?
---
What's Next